What are TM44 regulations?
TM44 regulations are a legal framework designed to help reduce energy consumption/costs, reduce carbon emissions and above all, ensure the safety of larger air conditioning systems. The regulations stipulate that any single air conditioning system over 12kw must be periodically inspected by an accredited air conditioning energy assessor like Crystal Sigma.

Our energy assessor will inspect your system and highlight how it should or can be improved to make it safer or more energy efficient.

The Inspection and servicing regime is imperative to maintain the system and keep it operating to a healthy and comfortable standard for the building occupants.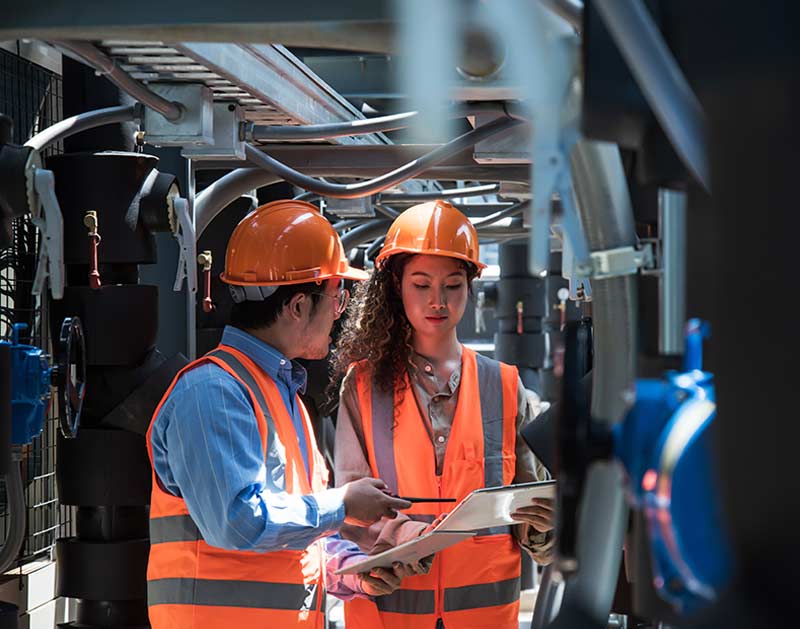 Does my air conditioning system need a TM44 inspection?
The TM44 regulations only apply to air conditioning systems with an effective rated output of more than 12kW. This applies to mulitple unit systems with a combined rating over 12kW or systems consisting of an individual unit over 12kW. To calculate the effective rated output of your system, you need to find the the maximum calorific output in kW as stated by your systems manufacturer.

One or more air conditioning units within a building controlled by a single person are considered to comprise a single air conditioning system for the purposes of the regulations. This mean that if you are the sole provider or person responsible for the buildings air conditioning system, you are subject to the regulations, even if the building is split into seperate sections / dwellings.
Who is responsible for organising TM44 inspections?
In most cases, the owner /operator is responsible for managing the TM44 inspection schedule. Where the operation and management of the system is undertaken by a servicing company who provide routine maintenance, the contract may specify the facilities management or servicing company, as the controller of the system with responsibility for ensuring that inspections are carried out. This will be dependant on the terms of the contract, the facilities management or servicing company may become responsible under the regulations also. In such cases, however, the landlord or building occupier retains a parallel duty to ensure that an air conditioning system has been inspected.
Fgas inspections
Fgas stands for Fluorinated greenhouse gases, these are powerful gaseous agents with environmental impacts much greater than carbon dioxide. These F-gases replaced ozone depleting substances, which are now entirely banned except in very limited circumstances. The most common types of F-gases are hydrofluorocarbons (HFCs), which are often used as the refrigerant in air conditioning systems.

HFC's are now being phased out due to the United Nations Montreal Protocol introduced in 2016. The Amendment targets an 85% reduction in HFC use by 2036. The EU and UK meet these obligations through the EU F-gas Regulation 517/2014.

After the end of the EU Exit Transition Period, Great Britain will retain the regulations in domestic law.
How do I book an inspection?
You can book your TM44 inspection directly with Crystal Sigma, we provide TM44 inspections across the UK on either a one off or repeat basis. Our energy assessor can visit your building and carry out a fully compliant inspection and provide you with a full, detailed report upon completion.

Simply contact our team today to arrange your TM44 inspection.
More information
To find our more about the TM44 regulations, please see the latest government guidelines.
Keeping your a/c running at its best.
We dont just install new air conditioning systems, we also maintain and repair systems from all major manufacturers.
Request your FREE quotation today.
Its quick and easy to request a FREE quotation, we can visit your home or place of work and carry out a free site survey.